Robot Advancement Is Coming In! Along With Your Pizza!
Dominos are pioneering the pizza delivery services with its trendy new robot. At first, pizza was being delivered from the air by drones but now they have decided to take their approach a bit more down to earth.
In Hamburg, Germany the new delivery robots will be coming to your door in an automated robot, just a bit bigger than a cooler strolling down the sidewalk. This will help the hungry population get food more efficiently at just one dollar per trip.
Big companies that incorporate a delivery system are investing in drone technology to make future deliveries more efficient. While Dominos are keeping theirs on the ground, the main benefits here are that no reliance on technology that's still in development, no crashes and little regulatory approval.
"We can't fall out of the sky," says Allan Martinson, COO at Starship Technologies. Despite the name implying that deliveries would be in the air, he believes that the more economical option would be to improve efficiency on the ground.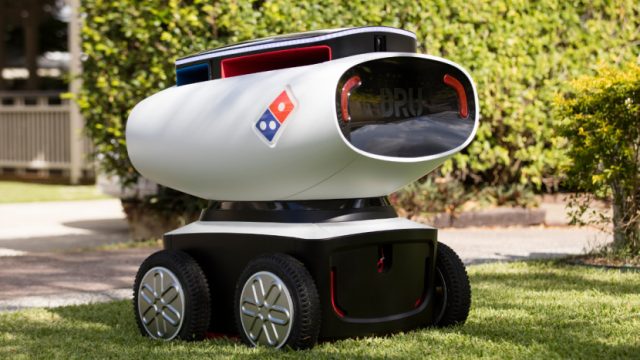 The robot has a high resolution map of the area it is in, and has the ability to travel and do everything a pedestrian does which means getting over kerbs and crossing the street safely. To aid the robot it is armed with cameras and scanners to avoid collision. It travels at 5mph, runs on electric and can hold 5 medium sized pizzas. One robot costs a few thousand dollars but will increase returns in the long run.
The operation will start in Hamburg and will expand to other cities in Germany and the Netherlands. The robot will be sent out and can be easily tracked by the consumer. When the robot arrives and you get your pizzas it returns home and someone switches in a charged battery, reloads it with more pizza and sends it on its next delivery.